Honoring the Industry's Safest Professional Drivers
Congratulations to 2020 Driver of the Year, Nicholas Delzeith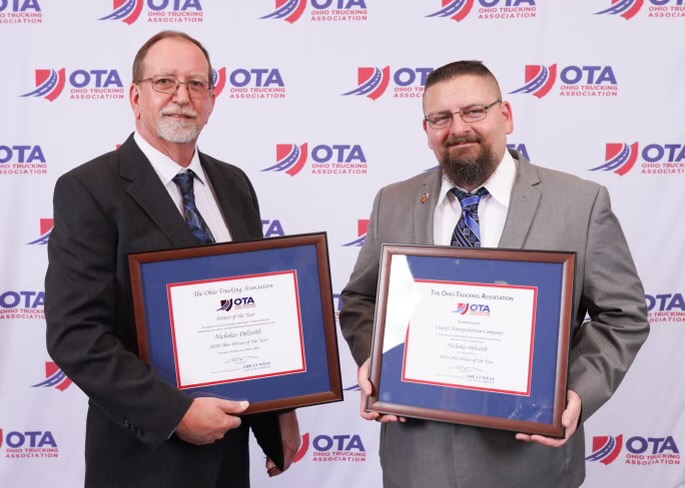 On April 2, 2021, the Ohio Trucking Association named Nicholas Delzeith of Clopay Transportation Company the 2020 Driver of the Year at the annual Driver of the Year Banquet, presented by Great West Casualty Company.
Each year, Ohio Trucking Association members are encouraged to nominate their safest drivers in hopes of walking away with the coveted Driver of the Year Super-Bowl style ring, allowing them to join the ranks of past Drivers of the Year. Each of the twelve finalists, as well as their company, is awarded a plaque in recognition of their outstanding career. These 12 finalists were chosen from a field of excellent nominees that were judged by individuals representing the Ohio State Highway Patrol, the Public Utilities Commission of Ohio, and the Ohio Bureau of Workers' Compensation.
Delzeith has been a professional driver for 38 years and has driven over 3.8 million safe miles. He has been a recipient of the Clopay Safe Driving Award for over 20 years, won the Wayne McGreevey Driver of the Year Award in 2014 and is a 6-time OTA Driver of the Year Finalist. Nick also serves on the Clopay Transportation Continuous Improvement Committee and is a Driver Trainer.
Other award finalists included:
Steven Brand, FedEx Freight
Kenneth Campbell, Crossett Inc.
Daniel Clark, Classic Carriers, Inc.
Robert Dew, Walmart Transportation
Richard Heffner, Jr., K-Limited Carrier, Ltd.
David Horton, Pitt Ohio Express
Jason Imhoff, Walmart Transportation
Keith Lester, Five Star Trucking, Inc.
Jeffrey Perine, Continental Express, Inc.
William Reynolds, Ports Petroleum Co., Inc.
David Wolford, Continental Express, Inc.
CLICK HERE to view photos from the awards ceremony.
About the Driver of the Year Award
Each year, the Ohio Trucking Association looks to its members to nominate amazing drivers to be in the running for Driver of the Year. These drivers possess an excellent driving record, dedication to the profession and a passion to improve the roads through a safety first mentality.
The following aspects of the driver's career are examined during the selection process: total miles driven; equipment driven; years with present employer and total years driving; details of preventable and non-preventable accidents; and participation in industry activities and community service. All nominations will be evaluated by a panel of judges and twelve finalists will be selected.
Thank You to our Presenting Sponsor:
2020 Event Photos and Recap Video: